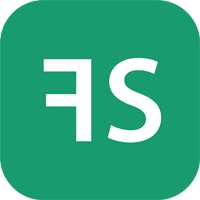 FlipSetter Whiteboard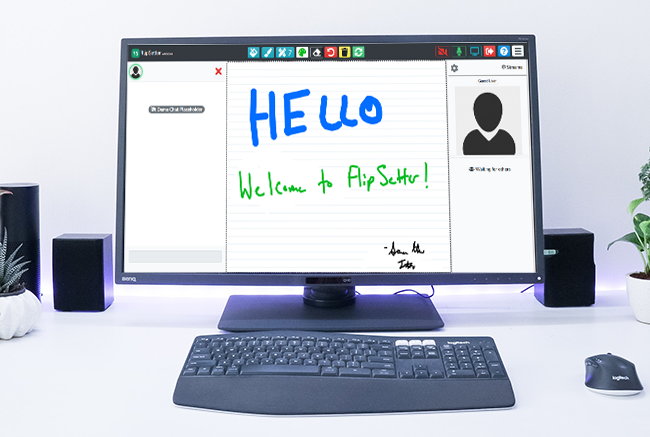 Welcome to the celebrated, FlipSetter whiteboard where your imagination comes to life. There's a saying, "if your eyes could talk then what would they say?" Tell us on here and broaden your creativity!
---
Our whiteboard is an online paint tool that lets people collaborate, connect, socialize, study, and work all right here. We designed state-of-the art tools to deliver the complete solution for everyone under one canvas.
---
Our whiteboard is built into the messenger system, and you can access all your content while hosting a whiteboard session with your friends, family and co-workers. It can be used for fun, pleasure and work. Below are some examples of how you can use the whiteboard for your business, educational and personal needs:
What exactly can I do with the whiteboard?
---
Draw and doodle your favorite cartoon characters, scenes, animals and other cool things
Change the color of your paintbrush to your favorite color and shade
Change the color of the canvas to your favorite color or background template
Upload images into the canvas to style more
Uploading documents into canvas (coming soon)!
Upload and share content through the instant messaging window
Whiteboard replay lets people watch past sessions like a movie
Send messages to your group while drawing on the whiteboard
P2P and group whiteboard is available

Disclaimer: Currently, we recommend limiting group whiteboards to a maximum of 10 people or less. If you are interested in bringing more people into your group whiteboard, there are other ways to do so. To inquire, please Contact Us and a member of our Technical Support Staff can assist you.

Turn your home into a FlipSetter home by accessing all of your FlipSetter content via all of your devices that are connected online:

Turn your home into a FlipSetter home by accessing all of your FlipSetter content via all of your devices that are connected online: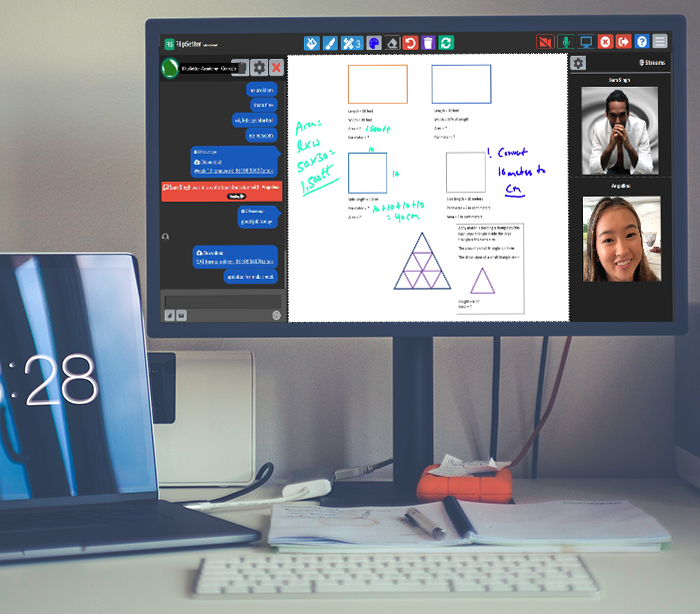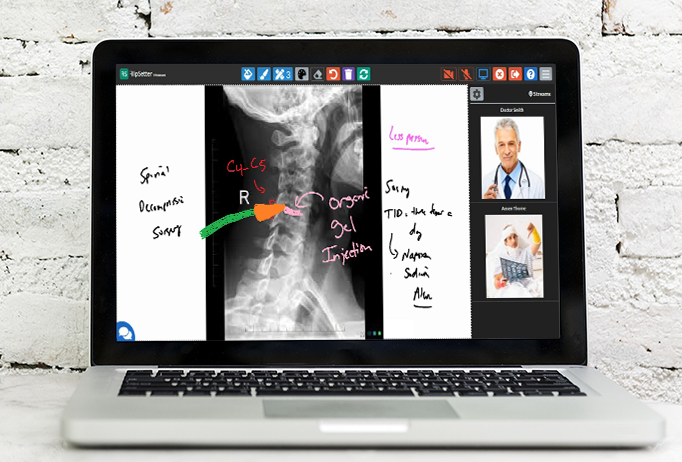 Who can use the whiteboard?
---
We like to think of our FlipSetter Whiteboard as an electronic commodity. So, anything you can write, sketch or doodle with paper and pen can also be done on here with added audio and video.
---
Education technology (schools and universities)
Corporate and enterprise solutions
Military
Athletics
Engineering facilities and demonstrations
Medical
STEM
DIY (Do It Yourself)
We are currently offering online test prep via our FlipSetter Academy – SAT online school. Students currently enroll, so come join us, and see how your score vastly increases with our optimized, interactive whiteboard. Higher score guaranteed! To learn more, please Contact us and our tutoring experts can further assist you.
What FlipSetter Academy does:

Higher score is possible! (Historically, 100% success rate of students achieving high scores). If you follow system protocols then it is in fact possible for the higher score to be achieved.
SAT lecture series (using classroom style learning, the lead tutor lectures students online)

Ask questions, write answers to the tutor's questions and master concepts
We use a college style lecture environment giving you early exposure on what to expect after high school graduation
Tutoring Assistants (TAs) are available after hours to help with SAT homework and course content

Required Prep book – Princeton Review 10 Practice Tests for the SAT
Homework assignments – weekly homework that contains questions from lecture series concepts, and SAT application questions
Learning of SAT concepts are useful for applicable school subjects to increase GPA
Average score increase is 200-250 points which our average score range is 1400 – 1500+
Guest speakers – industry leaders join monthly sessions to educate students on how they use acquired skills from the SAT for work and provide demonstrations
Students who achieved high scores are eligible to gain volunteering hours as TAs
This is a three month program (may vary) that contains all of the lecture series required to fully understand how to master the SAT
Currently compatible with Chrome, Firefox and Safari
---
Currently supports up to 10 people in a group
Please use laptop and / or computer only. Mobile app is coming soon
We may be able to pull off 15, but 10 is the safest zone at the moment. Currently adding in a media server solution to the source code to support a larger volume. Stay tuned!